It was a pleasant evening for a night out.  My friends and I went to Sambuca 360 in Plano to disco two weekends ago.  It was a fun night.  Our husbands approved our girls night out date.  We're all behaved.
Celebrating birthdays were me, Morena, and Rina.  The last time we were in Sambuca 360 was three years ago, also celebrated our birthdays together.  That was a long time, huh?
There's no entrance fee at the disco.  You have to show a valid ID at the front desk.  Upon ordering a meal or a drink, they will ask for a credit or debit card.  They will hold it until it's time for the bill and check out.
My friends and I had an enjoyable evening dancing to the upbeat music of the 70's, 80's, the 90's.  There was a live band that adds to the excitement in the disco.  We had so much fun.
Happy birthday, Mors and Rina! Let's do this again. 
After all the eating and talking in a resto-karaoke bar, J and S (the birthday boys' wives) agreed to go to a disco bar called Electric Cowboy. It is located in Hwy 110 by Bennigans. We continued the birthday twin's celebration dancing to the tunes of modern and country music. Drinks were flowing that night. We joined everybody else on the dance floor. We had a great time.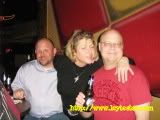 What surprised me is that my honey and I danced two-steps to Allison Krauss' "When You Say Nothing At All". It was very romantic thinking it was the first time I saw him danced. Of course, we do not have the pictures because we were dancing :).