I like air travel.  And as part of my travel preparation, I make sure that everything is ready before departure.  That is why I have a checklist of all my travel needs.  It has been proven to many that manual checklist is effective.  But what those online geeks do?
Well, travelers whose life have been occupied by technology and computers can use this tool called clipix.  What has to be done is an organization of travel interests on the net.  If you bookmarked tons of websites for reference, you can do it with this tool without the hassle of confusion.  You will only come back to one place to check on it.  Some of us are spending time working online and seems like our lives are occupied with the Internet.  Organizing our hobbies, activities, and even travel plans can be done on clipix.
I signed up for free and tried the features.  There are clipboards that work as task management or travel organizer.  What's neat is that, the websites that I regularly visit are saved with included description.  I created my own clipboard and it looks like this: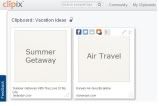 I am just starting and I know I will be able to customize my board.  What do you think?  This gets pretty exciting to me because I can start organizing my travel plans for our next vacation to the Philippines.  We have lots of things to focus on.  And there many travel references to read too.  Please do not hesitate to comment about my clipboard.  It would be nice if you sign up with clipix and share your clipboard.  It would be fun and useful at the same time.
Promoted Post