This is a Sponsored post written by me on behalf of Puppies vs. Babies for SocialSpark. All opinions are 100% mine.
Many of my friends asked me if I want to have a pet.  I said no.  The reason why is because, my husband and I are not ready to have a pet in the house.  We are busy with a lot of things – work, baby, home management, and others.  Besides, we have different pet preference anyway.  I like cats.  My husband likes dogs.  So it would be a difficult decision if ever.
I never liked dogs.  It is because I had witnessed my father was bitten by a dog while passing by a neighbor's house.  That was traumatic!  Puppies are worst biter.  This is why I never liked them.  Some of my friends have dogs and puppies.  Whenever I am visiting, I just sit still and pet them a little.
Then five days ago a friend shared a link of her puppy's photo on the Internet.  She entered her puppy in Puppies vs. Babies online contest.  She wanted me to vote for her pet.  Well, I did.  The top winning baby or puppy will receive $5,000.  What a price!  But if I would join this contest, I will enter my little girl's photo because I like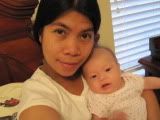 babies. Puppies are cute but babies are more lovable and smarter.  My baby is a happy girl and I love her smiles, giggles, and laughs.
And so let me ask, what would you vote for?  Go to Puppies vs. Babies and vote now.  Please let me know who/what is your pick.  I would, gladly, like to know.